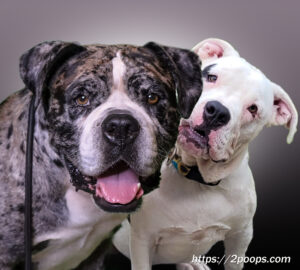 Max and Katie
Puppies are here!!!  2 Poops is pleased to announce  that our family has increased by 24 paws!!!  Max and Katie's litter arrived early on Tuesday morning, October 4th,  2022.  Both mom and pop are registered with the ABR (American Bulldog Registry)!  Six beautiful Alapaha Blue Blood Bulldog puppies!  There are five males and 1 female.  The female is brown and white, two of the males are merle, and the remaining three are black and white with some variations.
Mom, Dad and babies are all doing great and are very healthy.
Click here for more information about 2 Poops Kennels or how to purchase a puppy!
Check out their photos below!
Animals helping Animals
Our 2 Poops family lives in Florida where we have mostly wonderful weather that we share with all of our friends and families.  Then there are those times when tropical storms and hurricanes threaten our cities and coastline.
Hurricane Ian was the deadliest hurricane to strike the state of Florida since the 1935 Labor Day hurricane.
Fortunately we in South Florida were spared from the full impact of this storm,  but our neighbors on the west coast were not so fortunate. This year we decided to do our part to help with Florida's recovery and especially the Ostego Bay Foundation Marine Science Center.
The Ostego Bay Foundation Marine Science Center is located at 718 Fishermans Wharf on San Carlos Island in Fort Myers Beach, Fl.  The Center has been providing a Marine Science Experience through interactive exhibits, aquariums, touch tank, one of kind collections and unique displays for 31 years.
The proceeds from the sale of our male puppy Ostega Bay will be donated to this foundation.  If you would like to help, then visit their website at:  https://www.ostegobay.org